Product Description
Foxwell NT4021 is specifically designed to offer professional Oil Service Reset, Electronic Parking Brake servicing and Battery Configuration coverage across a wide range of car manufacturers, at an affordable price - even for small garages and enthusiasts.
Foxwell NT4021 AutoService Tool


Foxwell NT4021 AutoService Pro tool combines the coverage of the NT401 Oil Service Reset tool, the NT415 Electronic Parking Brake service tool and the NT402
Battery Configuration Tool into a single unit - saving you over 200USD compared to buying the three tools individually.

The tool also features a comprehensive EOBD / OBD-II mode, to offer engine management fault code reading and live data from any EOBD compliant car (all* petrol cars from 2001 onwards, diesel cars from 2004 onwards).

Notice: Free update for 18 months, over 18 months,you need to buy NT4021 Update Service to give you a further 12 months of access to the update servers.


Features and Benefits:

1. Oil light/Service Reset

Coverage includes 42 vehicle makes, NT4021 allows you perform oil changes on almost all vehicles.
Guides you to sets service intervals, inspection mileage and resets service lights. It provides on-screen reset procedures to guide you step by step towards the correct service of the vehicle you are working on.

2. Electronic Parking Brake (EPB) Service

Coverage includes 31 vehicle makes – the most extensive coverage in the industry.
NT4021 is specially designed to allow the service and maintenance of brake systems on multiple brands of vehicles where electronic brake systems are fitted.
It lets you perform bi-directional tests on electronic parking brake systems of multiple vehicle brands.
The tests let you to deactivate and re-activate brake control system, set new brake pad thickness after AUDI A8 service, bleed the brake systems and more.

3. Battery Configuration

Its coverage includes
AUDI, BMW, CITROEN, FORD, PEUGEOT, SEAT, SKODA, VOLVO, VW and Ford–all vehicles that need a specialized tool to associate the new battery with the vehicle ECU after changing battery
The tools are supplied to us from Foxwell with most of the software on a recent version. Currently this includes coverage for cars (with a standard 16-pin diagnostic port) from the following manufacturers:
O = Oil service reset coverage
E = Electronic Parking Brake coverage
B = Battery replacement/validation functions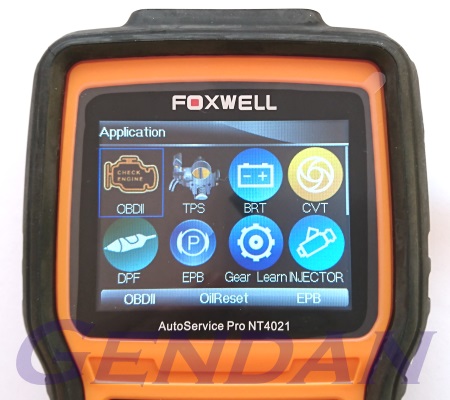 European Makes:

Abarth (O - Petrol models only)

Alfa Romeo (O - Petrol models only)

Audi (O/E/B)

Bentley (O/E)

BMW (O/E/B)

Bugatti (O/E)

Citroen (O/E/B)

FIAT (O - Petrol models only)

Ford (EU) (O/E)

Jaguar (O/E)

Lancia (O - Petrol models only)

Land Rover (O/E)

Maybach (E)

Mercedes Benz (O/E)

Mini (O/E)

Opel (O/E)

Peugeot (O/E/B)

Porsche (O/E)

Renault (O/E

Rolls Royce (O)

SAAB (O/E)

Seat (O/E/B)

Skoda (O/E/B)

Smart (O)

Vauxhall (O/E)

Volkswagen (O/E/B)

Volvo (O/E/B)

Asian Makes:

Acura (O/E)

Honda (O/E)

Hyundai (O/E)

Infiniti (O)

Isuzu (O)

Kia (O/E)

Lexus (O/E)

Mazda (O)

Mitsubishi (O)

Nissan (O)

Scion (O/E)

Suzuki (O)

Toyota (O/E)




American Makes:

Chrysler USA (O)

Ford USA (O/E)

GM USA (O/E)
4.General Features:
Compatible with 2013/2014 models on most makes

Shows ECU information

EOBD engine management coverage for all* UK 2001+ petrol and 2004+ cars

EOBD / OBD-II functionality - supports ALL 5 OBD-II protocols and ALL 10 test modes

Read EOBD / OBD-II live sensor data

Merge live data graphs for easier fault diagnostics

Easy-to-use with intuitive menu-driven operation

Large TFT colour display (240 x 320 pixels)

Strong housing tough enough to survive the workshop

FREE updates for the first 18 months after registration
(* - EOBD engine management coverage applies to passenger cars with fewer than 10 seats and a Gross Vehicle Weight rating of less than 2500kg,
registered from new within an EU member state since 2001 for petrol cars and 2004 for diesel cars)

5. 18 month free update.
Specifications:

Display: Backlit, 240*320 TFT color display
Working Temperature: 0 to 60℃ (32 to 140℉)
Storage Temperature: -20 to 70℃ (-4 to 158℉)
External Power: 8-18 Volts powered by vehicle battery
Dimensions: 200*100*38mm (L*W*H)
Color Box: 240*180*80mm (LWH)

Packing List:

1x NT4021 AutoService Tool
If you have any questions, please contact us freely.
Whatapp:
++86-15377698251
Skype: foxwellmall.com


Live Support: Chat with us online


Email: sales@foxwellmall.com
Scan QR Code to Shopping via Mobile Device.
Technical Service
| | |
| --- | --- |
| Name | Download |
| FoxScanner Update Guide EN-V1.00.pdf | |
| NT4021 AutoService User's Guide_English Version_V1.00.pdf | |
| FoxScanner Installer_V7.60_20161213.zip | |