Foxwell NT520 Pro Multi-System Scanner with One Free Car Brand Software+OBD NT510 Firmware Updated Version
Item No. :
SC283-B
History:
326
sold
Buy it Now:
US$179.00
Latest price:

US$159.00
Language:
Version:
Quantity:
Lowest price for Foxwell GT80 Mini and GT80 Plus,please contact

Email:sales@foxwellmall.com
Whatsapp: +86-15207156315
Shipping:

Free Shipping Express Shipping Service
Estimated delivery time: 3-5 Days.

See details »

Weight:

0.8KG

Package:

22cm*17cm*9cm

( Inch: 8.66*6.69*3.54 )

Returns:

Return for refund within 30 days,buyer pays return shipping.

Read details »
Related Download Files:
foxwell-nt520-mercedes-benz-function-list.pdf
(3,318.0K)
nt520_pro_muti-system_scanner_user_manual.pdf
(4,255.2K)
foxwell-nt520-peugeot-function-list-v1-0-0.xlsx
(111.0K)
foxwell-nt520-renault-functionlist-incl.special-functions.xlsx
(103.8K)
Ferrari_Function_List.pdf
(163.4K)
Maserati_Function_List.pdf
(144.6K)
Manufacturer Specifications

Reviews

After-sales Service
NT520 Pro is the most cost-effective professional scan tool for enthusiasts, small garages, independent repairs, specialized garages and technicians by delivering OE-level diagnosis on all the electronic systems,also make you to access the most commonly required service features such as oil service light reset, throttle body adjustment, DPF regeneration and much more.

Foxwell NT520 Scanner with 1 Free Car Brand Software+OBD with NT510 Firmware Updated Version
Top 5 Reasons to Get Foxwell NT520



1.Foxwell NT520 Pro is a low-cost handheld scan tool that delivers OE-level diagnosis on all the electronic systems.

2.Except for basic

diagnostic

functions such as read & erase code, live date, it also has service features such as oil service light reset, throttle body adjustment, DPF regeneration and so on.
3.Supported Various Manufactures:

Mercedes Benz, Acura, Alfa Romeo, Abarth,

Ford

, Audi,

BMW

,

Chrysler

,

Fiat

, GM, Honda,

Acura

,

Hyundai

,

Jaguar

, Kia, Lancia,

Lexus

, Land Rover, Maserati, Mini, Toyota, Opel, Rolls-Royce,

Scion

, Seat, Skoda, Vauxhall, VW,

Porsche

, Masda,

Ferrari

, Aston Mar

tin and more.

4. NT520 Pro can cover up to five vehicle makes. More software can be added anytime at extra cost USD60 (SC283-S).

5. Multi-Lanuage: English, Chinese (Simplified), Chinese (Traditional),French, Deutsch, Spanish, Japanese, Russian,Polish, Dutch, Portugues, Korean, Swedish, Italian, Russian, Thai, Hungarian

6. Free Update for Lifetime. One Year Warranty.
Kindly Note:

1.We have stock for this item in our US and UK warehouse.
If you are from US or European Countries, you can enjoy N
o Tax and faster shipping.

2.If you bought NT510/NT520 Pro for BMW, then you need to buy extra BMW 20 Pin and Extension Cable(SC283-F) or you can buy the BMW Full Kit
3.Compared with NT510, Mercedes Benz is newly added,if you want to buy NT520 Pro for benz full package, please choose SC283-BF1.
4.The NT520 usually comes with no specific car software as default, customer can download one software for free from foxwelltech.com, (Can not support Ipad and MAC system now.)
Please follow the steps here to download the software.
Foxwell NT520 Pro Supported Vehicles:
Foxwell NT520 Diagnostic Tool Main Functions:
Read and clear diagnostic trouble codes from numerous vehicle systems - ABS, Airbag, Engine, Transmission, Instrument cluster etc. Component Testing, Read Vehicle and Ecu Information, DataStream Graph Display, view freeze frame data, read live data stream info. Fault-Tracing for malfunction indicator lights, includes check engine, ABS, SRS airbag, Oil Service light reset, throttle body adjustment, SAS, Transmission, EPB, Air Conditioning System, DPF Diesel Particulate Fliter , Fuel Injector check , Air Suspension Diagnose , register and replace Battery etc.
Foxwell NT520 Automotive Scanner Special Functions:
DPF Regeneration, ABS System Calibration, Automatic Transmission, ETC Throttle Follower Test , ECM Replacement,Manual DPF Regeneration, HVAC Self Test, ect. Allows for the coding and programming (for several cars) of a replacement control module or changing previously stored incorrect coding. ( Note: These special function NOT for all car models ! )
Foxwell NT520 OBDII/EOBD Details Functions:
1. Read/Clear DTC Codes,including permanent DTCs, stored DTCs, pending DTCs
Turn off Check Engine Light (MIL) and reset monitors
3. I/M Readiness -- I/M Readiness indicates whether or not the various emissions-related systems on the vehicle are operating properly and are ready for Inspection and Maintenance testing.
4. Read sensor live data stream and display data in text and graphing
5. Freeze Frame -- When an emission-related fault occurs, certain vehicle conditions are recorded by the on-board computer. This information is referred to as freeze frame data. Freeze Data is a snapshot of the operating conditions at the time of an emission-related fault
6. O2 Sensor Test -- This option allows retrieval and viewing of O2 sensor test results for most recently performed tests from the vehicle's on-board computer.
7. On-Board Monitoring -- This function can be utilized to read the results of on-board diagnostic monitoring tests for specific components/systems.
8. Evap System Test -- The EVAP test function lets you initiate a leak test for the vehicle's EVAP system.
9. Vehicle Information -- The option displays the vehicle identification number (VIN), and other information of the test vehicle.
10.Retrieve generic (P0, P2, P3, and U0), manufacturer specific (P1, P3, and U1) codes and pending codes
11. Read live PCM datastream
12. DTCs lookup library search
13. Supports all the OBDII/EOBD test modes include: CAN, ISO9141, KWP2000, J1850 VPW and J1850 PWM.
14. View & Graph Live Data in Color Graphing and blazing fast refresh rate for better graphing and live data readings.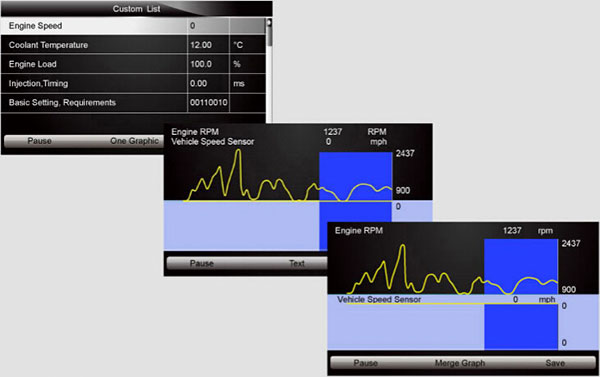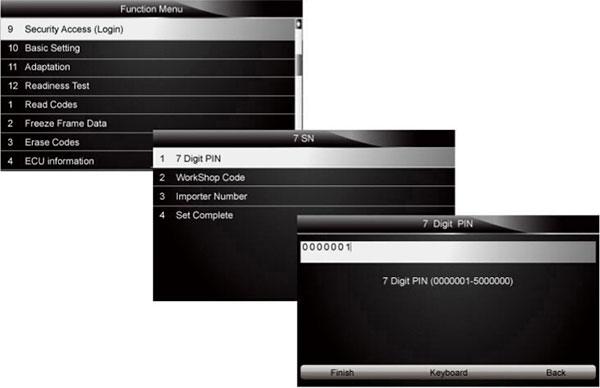 Foxwell NT520 update process:
To update your NT520, follow the three steps below:
Step 1: Get an FOXWELL ID (open the site below to view details)
http://www.foxwelltech.com/support/item-216.html
Step 2: Register the product with the product serial number and product password (open the site below to view the detail)
http://www.foxwelltech.com/support/item-217.html
Step 3: Update the product through the FoxScanner update application.
1. There are two ways to download the update PC application.

a. Visit our site www.foxwelltech.com and go to the Product page. Find your product model and click on it to see the product profile. Select the Download tab to download the PC application file.
B. Log on to www.foxwelltech.com, go to your Member Center and select Registered Product. Click Software Details. You will find the link just at the top of the software.
2. Unzip the application file. Follow the instructions on the computer screen to install the application and driver.
3. Double-click the desktop icon to launch the application.
4. Remove the TF card from the scanner, place it in the card reader, and plug the drive into the computer. The TF card is on the left side of the scanner.
5. Log in with your Foxwell ID and password.
6. Foxscanner automatically recognizes the serial number and displays all available applications, read it carefully before updating. Please note that you are authorized to select and install any vehicle software from the free update list available and, in the future, you may only install updates of the selected brand. .
In case you want to install another vehicle software, contact us or log in to your member center to place an order to purchase additional software.
7. Click the box (es) next to the software you want to update, and then click the Update button to download.
8. When the Update button is clicked, it starts downloading. And you can check the current status. If the current status displays the download, do not close the update application. Do not close Foxscanner until it appears.
9. Click Software Management to review all updated software.
10. To uninstall software, select them and click the Uninstall button.
More detailed information on Foxwell NT520 update, read Foxwell NT520 update update manual to "Related Download Files"
The simple but elegant design of this scanner has been developed by technicians for technicians. A flashy keyboard, menu-driven operation, shortcuts, and an impressive 2.8-inch color screen make the scanner extremely easy to use.
Foxwelll NT520 is built to last. It is built to withstand impacts and damage in the harsh workshop environment. A rubberized sleeve protects your investment. The secure fit, additional corner padding and screen protector ensure your scanner will be available for a long time.
Foxwell NT520 Pro update online:
With Internet access, you will always have the latest bug fixes, new vehicles, newly added parameters and functionality at your fingertips. And they are free for life long time after your registration. Simply connect the scanner with your computer,log into the PC application and click update. The application does all the work, syncing the latest software to your tool.
NT520 Specifications:
Display: Backlit,240*320 TFT color display
Operating Temperature: 0 to 60°C (32 to 140°F)
Storage Temperature: -20 to 70°C (-4 to 158°F)
External Power: 8 to 18 V provided by vehicle power
Dimensions: 200*100*38MM(L*W*H)
Display:2.8"TFT color screen
Storage Temperature:-20 to 70°C (-4 to 158°F)
Dimensions : 145*94*32MM
Color Box: 530*525*336MM
Package Included:
1*NT520 Multi-System Scan Tool
1*User's Guide
1*Memory Card
1*USB Cable
1*Nylon Carry Pouch
---
Foxwell NT520 Customer Reviews:
Now I have read and erased the air bag error codes, central locking and reset the airbag and service interval lights.
Very easy to use, I mean, follow the instructions on the screen, and everything will be done!
Here, I made an easy screenshot for anyone who needed it.
Contact us:
Whatapp:
+86-15207156315
Skype: foxwellmall.com

Live Support: Chat with us online

Email: sales@foxwellmall.com
Scan QR Code to Shopping via Mobile Device.
Write a Review
Tell us what you think about this item and share your opinions with other people. Please make sure your review focuses only on this item. All reviews are moderated and will be reviewed within two business days. Inappropriate reviews will not be posted.
After-sales questions and issues: Contact our Customer Service Department. (A customer representative will get back to you).
Please Sign In first if you want to later edit or manage reviews uploaded by yourself.
I wanna buy more accessories compatible with the item.
Product's Tags:
Foxwell NT520
Ship from US/UK
11.11 Big Sale
Bookmark It