[ Free Shipping from US] Foxwell NT520 Pro Multi-System Scanner with One Free Car Brand Software+OBD NT510 Firmware Updated Version Free Update Online
Item No. :
SC283-B
History:
293
sold
Buy it Now:
US$159.00
Language:
Version:
Quantity:
Foxwell NT630 Elite on Promotion, only 149USD Free Shipping.
Foxwell NT520 Best offer here:
Foxwell NT520
If you need much better price, please contact me as following:
Email:sales@foxwellmall.com
Whatsapp: 008618086619023
Shipping:

Free Shipping Express Shipping Service
Estimated delivery time: 3-5 Days.

See details »

Weight:

0.8KG

Package:

22cm*17cm*9cm

( Inch: 8.66*6.69*3.54 )

Returns:

Return for refund within 30 days,buyer pays return shipping.

Read details »
Related Download Files:
foxwell-nt520-mercedes-benz-function-list.pdf
(3,318.0K)
nt520_pro_muti-system_scanner_user_manual.pdf
(4,255.2K)
foxwell-nt520-peugeot-function-list-v1-0-0.xlsx
(111.0K)
foxwell-nt520-renault-functionlist-incl.special-functions.xlsx
(103.8K)
Ferrari_Function_List.pdf
(163.4K)
Maserati_Function_List.pdf
(144.6K)
Manufacturer Specifications

Reviews

After-sales Service
NT520 Pro is the most cost-effective professional scan tool for enthusiasts, small garages, independent repairs, specialized garages and technicians by delivering OE-level diagnosis on all the electronic systems,also make you to access the most commonly required service features such as oil service light reset, throttle body adjustment, DPF regeneration and much more.

Foxwell NT520 Scanner with 1 Free Car Brand Software+OBD with NT510 Firmware Updated Version
Note: NT520 Pro have 50pcs stock in US warehouse now.
Features and Benefits
Delicately developed by the most distinguished experts in this industry.
Foxwell NT520 Pro is a low-cost handheld scan tool that delivers OE-level diagnosis on all the electronic systems for a single car manufacturer.
It does not only include basic the functions such as read & erase code, live date, but also it's capable of advanced functions such as actuation,adaptation coding and programming- ideal for specialist, garages and car enthusiasts. 
Available appications are:
 Mercedes Benz, Acura, Alfa Romeo, Abarth, 
Ford
, Audi, 
BMW
, 
Chrysler
, 
Fiat
, GM, Honda, 
Acura
, 
Hyundai
, 
Jaguar
, Kia, Lancia, 
Lexus
, Land Rover, Maserati, Mini, Toyota, Opel, Rolls-Royce, 
Scion
, Seat, Skoda, Vauxhall, VW, 
Porsche
, Masda, 
Ferrari
, Aston Martin and more. (click to check details)
Foxwell NT520 language:
English, Chinese (Simplified), Chinese (Traditional),French, Deutsch, Spanish, Japanese, Russian,Polish, Dutch, Portugues, Korean,  Swedish, Italian, Russian, Thai, Hungarian
Note:
1
.Free Lifetime upgrade online, one year quality guarantee.
2.If you bought NT510/NT520 Pro for BMW, then need to buy extra BMW 20 Pin and Extension Cable
(SC283-F).
3.
If you use in USA, we can ship from our US warehouse, no tax and faster shipping within 3 days.
4.
NT520 Pro is shipped with one free software and can cover up to five vehicle makes. More software can be added anytime at
extra cost(SC283-S).
5.Can not support Ipad and MAC system now.
6.
Compare with NT510, Mercedes Benz is newly added
,if you want to buy NT520 Pro for benz full package, please choose
SC283-BF1.
Supported Vehicles:
Foxwell NT520 Features and Benefits:
Compatible with both OBDI and OBDII vehicles
Work on the latest 2016/2017 models
Get access to power train, chassis and body systems
Quick test function to test most vehicle systems
Read and clear diagnostic trouble codes and reset MIL of all systems
Request and record live sensor data
Merge and view 2 parameter graphs simultaneously
Display freeze frame data
Retrieve ECU information
Support Oil service reset functions on selected make
Support Electronic Park Brake (EPB) features on selected make
Upgradable to cover other car makes
Multi-language menus and code definitions for an international market place
TF memory card for data backup and software update
As easy as 1-2-3 with large TFT color screen and menu-driven operations.
Ergonomic design and ruggedly built for both shop and road tests.
It is free for lifetime after your purchase
Optimize the upgrade method to allow users to update the scanner via USB connection instead of SD card
Foxwell NT520 Pro shows live vehicle sensors data in text and graph format and allows you to focus on any suspicious or symptom-specific data parameters it's powerful graphing capability gives you the real picture of what's going on in the vehicle. You can view 2 parameter graphs simultaneously and merge them into one coordinate, so you can easily see how they affect each other, providing you with the most comprehensive and functional look at live data possible.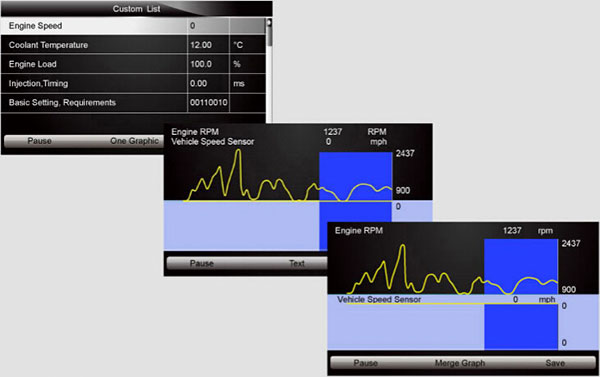 NT520 Pro
 cannot only 
read your codes
, but it can also 
actuate components, run system tests, program control modules
.Reading the trouble codes from your vehicle is easy, 
but
 without
 live data, bi-directional controls and other special functions
, you may not have enough information to get the problem fixed right It allows you to use the scan tool temporarly activate or control a system or component With.
NT520 Pro, the check of electronic components such as switches, sensors, relays & actuators is made a simple task. saving your time and labor costs. It gives you the ability to flash a control unit with new program data. Provided that a module can be re-coded. NT520 Pro allows for the coding and programming of a replacement control module or changing previously stored incorrect coding as expensive factory tools do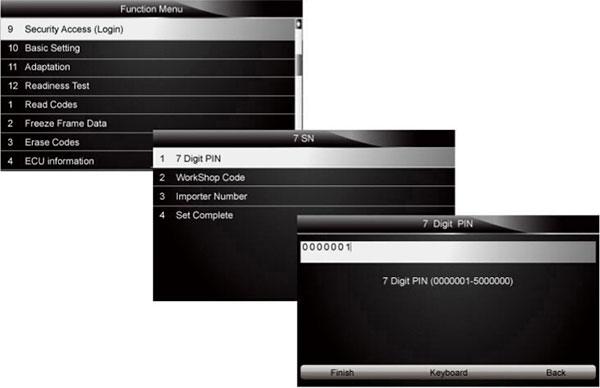 In additon it has access to the most commonly requirede service features like brake deactivation ,adaptation and service resets.
Foxwell NT520 update process:
To update your NT520, follow the three steps below:
Step 1: Get an FOXWELL ID (open the site below to view details)
             http://www.foxwelltech.com/support/item-216.html
Step 2: Register the product with the product serial number and product password (open the site below to view the detail)
              http://www.foxwelltech.com/support/item-217.html
Step 3: Update the product through the FoxScanner update application.
1. There are two ways to download the update PC application.
 
a. Visit our site www.foxwelltech.com and go to the Product page. Find your product model and click on it to see the product profile. Select the Download tab to download the PC application file.
B. Log on to www.foxwelltech.com, go to your Member Center and select Registered Product. Click Software Details. You will find the link just at the top of the software.
2. Unzip the application file. Follow the instructions on the computer screen to install the application and driver.
3. Double-click the desktop icon to launch the application.
4. Remove the TF card from the scanner, place it in the card reader, and plug the drive into the computer. The TF card is on the left side of the scanner.
5. Log in with your Foxwell ID and password.
6. Foxscanner automatically recognizes the serial number and displays all available applications, read it carefully before updating. Please note that you are authorized to select and install any vehicle software from the free update list available and, in the future, you may only install updates of the selected brand. .
In case you want to install another vehicle software, contact us or log in to your member center to place an order to purchase additional software.
7. Click the box (es) next to the software you want to update, and then click the Update button to download.
8. When the Update button is clicked, it starts downloading. And you can check the current status. If the current status displays the download, do not close the update application. Do not close Foxscanner until it appears.
9. Click Software Management to review all updated software.
10. To uninstall software, select them and click the Uninstall button.
More detailed information on Foxwell NT520 update, read Foxwell NT520 update update manual to "Related Download Files"
The simple but elegant design of this scanner has been developed by technicians for technicians. A flashy keyboard, menu-driven operation, shortcuts, and an impressive 2.8-inch color screen make the scanner extremely easy to use.
Foxwelll NT520 is built to last. It is built to withstand impacts and damage in the harsh workshop environment. A rubberized sleeve protects your investment. The secure fit, additional corner padding and screen protector ensure your scanner will be available for a long time.
Foxwell NT520 Pro update online:
With Internet access, you will always have the latest bug fixes, new vehicles, newly added parameters and functionality at your fingertips. And they are free for life long time after your registration. Simply connect the scanner with your computer,log into the PC application and click update. The application does all the work, syncing the latest software to your tool.
NT520 Specifications:
Display: Backlit,240*320 TFT color display
Operating Temperature: 0 to 60°C (32 to 140°F)
Storage Temperature: -20 to 70°C (-4 to 158°F)
External Power: 8 to 18 V provided by vehicle power
Dimensions: 200*100*38MM(L*W*H)
Display:2.8"TFT color screen
Storage Temperature:-20 to 70°C (-4 to 158°F)
Dimensions : 145*94*32MM
Color Box: 530*525*336MM
Package Included:
1*NT520 Multi-System Scan Tool
1*User's Guide
1*Memory Card
1*USB Cable
1*Nylon Carry Pouch
---
Foxwell NT520 Scanner Description
1 Diagnostic Port - provides connection between the scan tool and vehicle.
2 LCD Display - shows menus, test results and operation tips.
3 Function Keys / Shortcut keys - three keys that correspond with "buttons" on some screensfor  executing special commands or provide quick access to most frequently used applications or functions.
4 Direction Keys - select an option or scroll through a screen of data or text.
5 ENTER Key – executes a selected option and generally goes to the next screen.
6 BACK Key – exits a screen and returns to previous screen
7 HELP Key – displays helpful information.
8 USB Port– Connect with computer and software updated directly..
9 Memory Card Port – holds the memory card for data backup and software update.
---
Foxwell NT520 Update Guide:
  The scanner can be updated to keep you stay current with the latest development of diagnosis.
  This section illustrates how to register and update your scanner.
  To update your scanner, please follow the three steps as below:
  Step1: Obtain an FOXWELL ID.
  Step2: Register the product with the product serial number and product password.
  Step3: Update the product by the update application FoxScanner.
  To be able to use FoxScanner, PC or laptop must meet the following minimum requirements:
     ● Operation System: Win98/NT, Win ME, Win2000, Win XP, VISTA and Windows 7.
     ● CPU: Intel PⅢ or better
     ● RAM: 64MB or better
     ● Hard Disk Space: 30MB or better
     ● Display: 800*600 pixel, 16 byte true color display or better
     ● Internet Explorer 4.0 or newer

NOTE:Before registration and updating, please make sure your network works correctly.If you have already had a Foxwell ID, just click the Sign in link at the top right of the website to log in. Alternatively, Visit our site www.foxwelltech.com and go the Product page. Find your product model and click it to view the product profile. Select Download tab to download the PC application file. Please refer to 10.1.2 for details.
---
Foxwell NT520 Customer Reviews:
Now I have read and erased the air bag error codes, central locking and reset the airbag and service interval lights.
Very easy to use, I mean, follow the instructions on the screen, and everything will be done!
Here, I made an easy screenshot for anyone who needed it.
Scan QR Code and Shopping Easily
Contact us:
Whatapp:0086-

15271813909



Skype: foxwellmall.com

Live Support: Chat with us online

Email: sales@foxwellmall.com
If you have any problems, please do not hesitate to contact us.
Write a Review
Tell us what you think about this item and share your opinions with other people. Please make sure your review focuses only on this item. All reviews are moderated and will be reviewed within two business days. Inappropriate reviews will not be posted.
After-sales questions and issues: Contact our Customer Service Department. (A customer representative will get back to you).
Please Sign In first if you want to later edit or manage reviews uploaded by yourself.
I wanna buy more accessories compatible with the item.
Product's Tags:
Foxwell NT520
Ship from US/UK
National Day Promotion
Bookmark It