Foxwell OS100 four Channel Automotive Measurement Oscilloscope for Petrol/Dies
Item No. :
SO398
History:
88
sold
Buy it Now:
US$449.00
Latest price:

US$499.00

You save US$50.00
Quantity:
100% Original Foxwell Tools!
Email:sales@foxwellmall.com
Whatsapp: +86-15207156315
Shipping:

Free Shipping Express Shipping Service
Estimated delivery time: 3-5 Days.

See details »

Weight:

4.0KG

Returns:

Return for refund within 30 days,buyer pays return shipping.

Read details »
Any Questions?
Get Technical Service.
Manufacturer Specifications

Technical Service

Reviews

After-sales Service
FOXWELL OS100 is small, lightweight,no external power required portable oscilloscopes.The oscilloscope is ideal for production test, research and design and all of the applications involving analog circuits test and troubleshooting, as well as education and training.
Foxwell OS100 four Channel Oscilloscope Automotive Measurement Oscilloscope
Foxwell OS100 Language: English, Korean, Chinese (Simplified), spanish
Foxwell OS100 Update: update on www.foxwelltech.com
Foxwell OS100 warranty: one-year warranty

Foxwell OS100 Features:
●Equipped over 80 types of automotive measurement function;
●First Diagnosis: Intake manifold vacuum& ignition, Petrol fumes adjusting valve vacuum& ignition, Idle exhaust ignition, Starting exhaust ignition
●Ignition: Primary and secondary
●Sensor: Air Flow Meter Camshaft Crankshaft, Distributor; Lambda sensor; Throttle Position
●Bus Diagnosis: CAN bus data examine, CAN bus signal integrity, CAN bus LH1ong time acquisition, LIN bus
●Performer: Petrol/Diesel
●Starter and charging circuits
●Fit for the portable computers, table PC, and suitable for wild mobile use and business trip use.
● Support WIN10/ WIN8/WIN7 etc.
●USB2.0 interface plug and play, and no need extra powers supply;
●Great function, more than20 kinds of automatic measurement function, RASS/FAIL Check function. Resourceful trigger function, dynamic cursor tracking, waveform record and replay function.
●Good mechanical design with small size is easy for carrying. The outercase is made by the same material with iPad- Anodised aluminium. It has great heat resistance and abrasive resistance with beautiful appearance. The hardness of aluminium alloy surface is greatly improved.
●4 isolated channels, IGSa/s real time sampling rate, 2mV-10V/DIV high input sensitivity and large input range, 70MHz high band-width.
●The waveform data could be output to EXCEL,BMR or JPG format.
●Waveform averaging, afterglow, lightness control, reverse, add, subtract, multiply,,divide, X-Y display.
●FFT spectrum analyzer
●0ne computer could connect with multiple oscilloscopes, expand the channel number easily.
●Provide secondary deve1opmentlibrary DLL; Provide Labview/VB/VC/QT developing examples.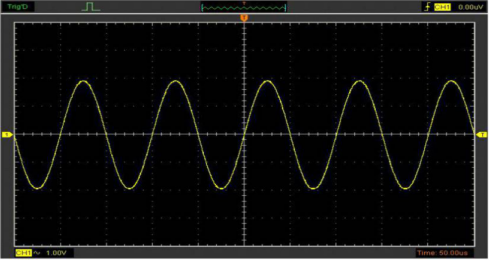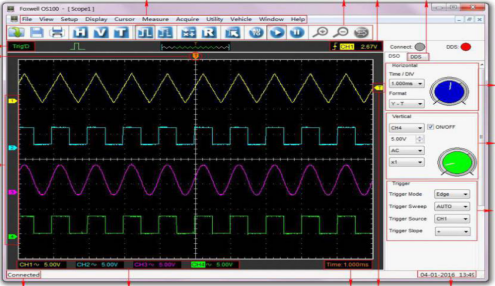 Specification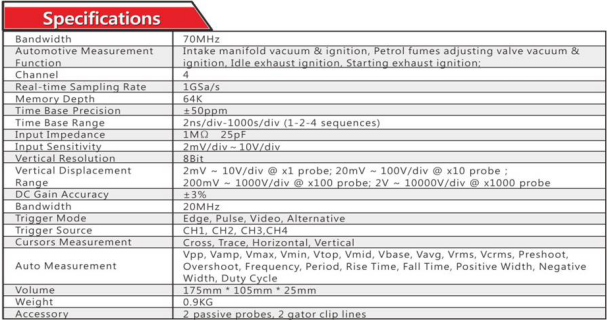 Package List:
2pc x large dolphin/Gator clip
1pc x Auto high-pressure ignition probe
1pc x acupuncture probe set
2pc x Multimeter probe
4pc x auto test cable
2pc x attenuator
1pc x Break out lead
2pc x Dolphin/Gator Clip cable
1pc USB cable
1pc Software installation CD
Contact us:
Whatapp:
+86-15207156315
Skype: foxwellmall.com

Live Support: Chat with us online

Email: sales@foxwellmall.com
Scan QR Code to Shopping via Mobile Device.
Write a Review
Tell us what you think about this item and share your opinions with other people. Please make sure your review focuses only on this item. All reviews are moderated and will be reviewed within two business days. Inappropriate reviews will not be posted.
After-sales questions and issues: Contact our Customer Service Department. (A customer representative will get back to you).
Please Sign In first if you want to later edit or manage reviews uploaded by yourself.
Product's Tags:
6% Off
Bookmark It